​Pickup & Delivery Laundry Service in Knoxville, TN
Effective Friday, May 20th we will no longer be offering a pickup/delivery service. We still will be offering a drop off service at our store so we invite you to come visit us at 5210 Schubert Rd. We are open 7 days/week from 7AM to 10PM.
Do you hate doing laundry?
Let WaveMAX Laundry do it for you! We offer free pickup and delivery laundry services throughout the Knoxville, TN area to individual customers looking for a wash and fold service, so you can check one more chore off your list.
We provide the soap and dryer sheets (we have many options to choose from). We separate your lights and darks and wash everything according to your instructions. We even check your pockets before washing! Your clothes are returned neatly folded, with your nicer items hung on hangers - how's that for service! On your first delivery we provide a WaveMAX laundry bag that is yours to keep and use on future orders.
What are the next steps when you choose to have WaveMAX handle your laundry needs? Our process is as simple as 1-2-3!
How Much Does Laundry Weigh?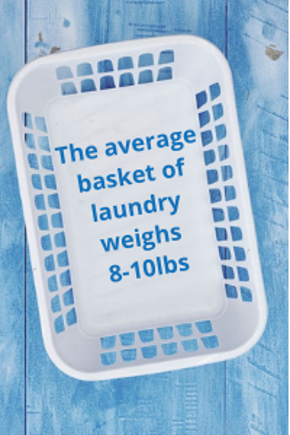 We will pick up your dirty laundry at your chosen location. 
The laundry is weighed and charged at 1.75/lb for a one-time order, or $1.65/lb for a weekly/bi-weekly order ($30 minimum). Some larger items have different charges.
Typical orders are returned as soon as the next day! (large orders may require 2 days)
Everything is carefully folded and delivered back to your location of choice
Payments are processed through our safe and secure software once the order is finished.
Pickup Schedule
We pickup & deliver Monday - Friday and have 2 windows available each day: a morning window from 9AM to 1PM, and an afternoon window from 1PM to 4PM. Our driver will text you when they are on the way!
Their pickup and delivery is the best ever! I am SO THANKFUL for this service! Second order just as perfect as the first! Thank ya'll!!!
No contest and hands down the best!!
Great place who can pick up and deliver laundry back to your residence. They follow instructions perfectly and bring back your dirty laundry looking brand new! Highly recommend to anyone without a washer and dryer looking for a simple, cost effective way to get your clothes taken care of properly! 5 stars!
Pick-Up & Delivery Pricing
Detergent Options
Tide, All Free & Clear, Gain Aroma Boost, and ECOS Plant Based Detergent. 
Fabric Softener Options
Downy April Fresh and Gain
Additional Options
Clorox Bleach, OdoBan Odor Treatment and OxiClean Stain Booster 
We currently service the following areas:
Hardin Valley, Farragut, Concord, Bluegrass, Karns, Cedar Bluff, Bearden, West Hills, Rocky Hill, Sequoyah Hills, Powell, Fountain City, Halls, Clinton, Holston Hills, Island Home, Fort Sanders, Downtown University of Tennessee, Gibbs, South Knoxville, Oak Ridge. Start with us today, to spend more time on the greater things in life and less time on laundry!